Synopsis
Mina (28), a young Israeli film and television star who began acting at the age of seven, has reached the bottom of her life. She moves from apartment to apartment in Tel Aviv, and after an evening of drunkenness and drugs she discovers that her landlord has decided to throw her out of her apartment. With nowhere to go and no-one to turn to, she decides to travel to her brother's wedding in Dimona, her childhood town in the heart of the Israeli desert, after leaving many years ago determined never to return. She only plans to spend one night there, hoping to get some money or at least a place to sleep. Among the commotion of voices and joy, food, and dancing at the wedding, she is forced to confront the difficult memories she left behind years ago: her missing and broken childhood, unrequited love, and the boys who bullied her in high school. Above all she thinks about her family: her drunken gambling addict father, the brother she is no longer in touch with, and her domineering and exploitative mother, who refuses to forgive Mina for leaving the family after supporting them for years as an actress, left them financially crushed and entangled in debt. Her mother wants Mina to return to be the family's "cash cow" or to leave and never return. But Mina can no longer ignore her lost past or the exploitation she experienced throughout her childhood years. She must take revenge.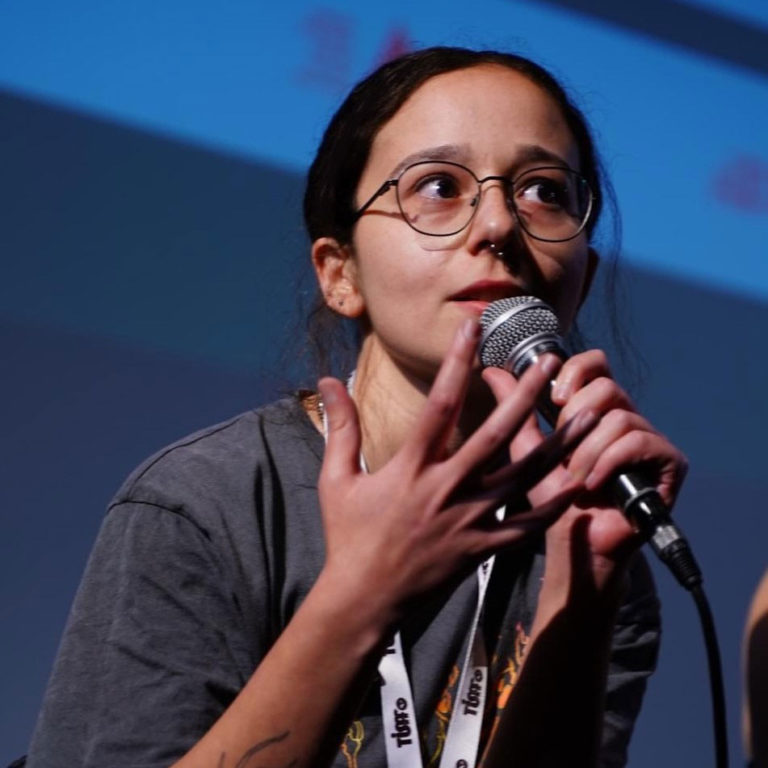 Meshi Shay – Director & Screenwriter
Born 1995 in Dimona, Israel. After high school she studied theater for three years and continued to studies in the Film Department at Beit Berl College, Israel. Her mid-length film Maybe it's not such a good idea was chosen to participate in the Israel competition at the International Student Film Festival in Tel Aviv. Her next short film will be shot in early 2023. Meshi works as a screenwriter and as a teacher of students in the Film Department at Beit Berl College.
Director's Notes
I am in my late twenties and over the years I've been to dozens of family events in my hometown Dimona, Israel. Such events were a central part of my childhood. My family and I would go to these events as if they were a family hobby. Family events create a human pressure cooker. Someone who already feels insecure will feel more so; someone who is arrogant will become more arrogant; someone who hates will hate more intensely; someone who loves will love more deeply. Everything is extreme and amplified, for better or for worse. This is a pressure cooker that never explodes. But in this film, everything is about to explode. This film will explore the fantasies and nightmares of each of us, and of our families. Family bonds are complex relationships that accompany us from birth to death. I wanted to address this them and our lives as children in our hometown. The place we grew up is a physical and human space that will always be a part of us, no matter how far we run. And my film is about just this: someone who thought she could run away from who she was, but comes back and realizes there is no way out. This is a coming-of-age drama film about someone who has long passed their teenage years. A film about how much our hometown is a part of us, just as Dimona, where I grew up, is a part of me. To return to my hometown, in life and in the film, is to enter a pressure cooker full of residues, family, feelings from the past, familiar smells, and traumas. What will this take out of me? What would it take out of each one of us? I wonder how we will get out of there, you and me.
THREE DAYS IN BANGUI
FEATURE FILM
FAMILY HONOR
FEATURE FILM
THE PATRIOTS
TV Mini-Series